---
One of Huawei's rotating CEOs has gone on record to downplay consumer expectations of 5G compared to previous generations
Eric Xu was speaking during the Huawei Analyst Summit (#HAS2018) in Shenzhen when he warned that consumers are unlikely to see a 'fundamental difference' between 5G and 4G. For operators planning to charge extra for 5G services, it could be a tough sell to potential customers without many tangible improvements.
Speed is one area where specific consumers may benefit.
Loading websites is what most consumers use their mobile data for, and it's a task which is already close to instantaneous. The jump in this area from 3G to 4G was substantial and easy to demonstrate. With 5G, however, shaving a couple of milliseconds off a page loading isn't going to be enough to persuade many customers to upgrade.
Customers who use 4G for their home broadband or for conducting business on-the-go are set to benefit more. These users will be able to download and upload large files much quicker on a 5G connection than 4G, and the experience for gamers will be improved through increased speeds and lower latency.
"We do have expectations on 5G, but maybe those expectations are not as big as some people might think," said Xu in his keynote. "5G is just one product line at Huawei. It is a just a natural evolution of the technology from 2G to 3G to 4G and now 5G."
One analyst, Ed Gubbins from Current Analysis, notes that Huawei's downplaying of 5G is a 'sharp contrast' to its rivals: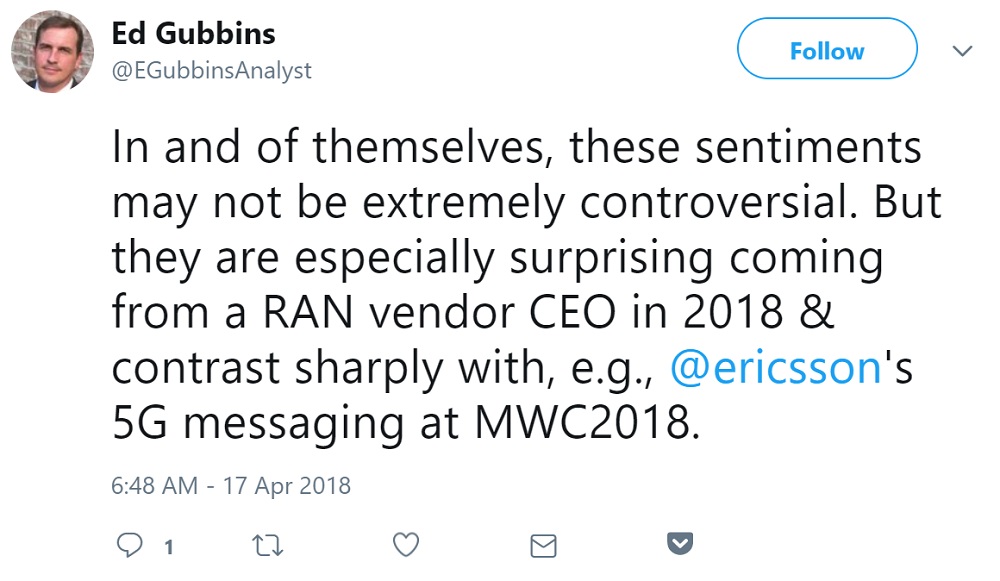 With the infrastructure for 4G remaining perfectly acceptable for most use cases, Xu is expecting 5G not to be used for nationwide coverage – at least not to begin with. Instead, Xu expects 5G to be used for specific, more localised deployments where there is a need for increased speed and bandwidth.
Do you agree with Xu's 5G expectations? Let us know in the comments.
Interested in hearing industry leaders discuss subjects like this and sharing their use-cases? Attend the co-located IoT Tech Expo, Blockchain Expo, AI & Big Data Expo and Cyber Security & Cloud Expo World Series with upcoming events in Silicon Valley, London and Amsterdam and explore the future of enterprise technology.